I think we can all agree that 2020 was a less-than-stellar year. While the world struggled – and continues to struggle with the COVID-19 pandemic, hope in the form of multiple vaccines and therapeutics is on the horizon. As we roll into 2021 and the "hope" of some sort or return to normality, many car owners are looking to improve their vehicle's appearance by searching for professional ceramic coatings or the best paint protection film for 2021.
Whether you own a Tesla, BMW, Audi, or any other vehicle, a high-quality and long-lasting paint protection film can maintain the factory appearance of your vehicle for more than a decade. Add a professional grade nano ceramic coating on top of that PPF, and you'll have the ultimate shield of protection over your specific vehicle surface.
If you're looking for the best product to protect your new vehicle – this article will help you out. Let's explore some of the facts about car clear paint protection film. We'll explain how it works, how effective it can be, how it's installed, and introduce what many professional detailers believe is the best PPF of 2021 – KAVACA Instant Healing PPF.
---
At Bill's we pride ourselves on being the best car detailing service in the Boston Area.
---
KAVACA PPF by NanoShine Group is the most prominent Paint Protection Film to hit the market. Manufactured in state of the art facilities, the film's instant healing ability and strong durability are second to none.
Watch this amazing video and see how quickly Kavaca heals the scratches!!
---
At Bill's Detailing Service, we offer the most trusted, certified installation of Ceramic Pro. Satisfaction from our customers and partners is what we strive for, and you will not be disappointed.
Check out our Ceramic Pro packages! >> Ceramic Pro
---
We pride ourselves on being the best car detailing service in the Boston Area and the top Ceramic Pro installer.
Reprinted from CeramicPro
It's estimated that more than half of the homes in the United States do not have a covered parking garage. While many of us can't live without our 'toy boxes' – others who are passionate vehicle owners are forced to come up with creative ways of protect car paint without a garage. Some of their ideas are proactive – others – not so much.
The world today is filled with toxins, chemicals, and emissions that can slowly eat away at the surface materials found on your daily driver. UV rays, acid rain, bird droppings, and pollen can penetrate the clear coat on the vehicle's paint job, while cold and hot weather can prematurely age rubber and plastic trim pieces.
If you don't have the luxury of a covered or garage door enclosure or a steel carport, here are some creative ways of keeping your car, truck, or SUV protected from the elements.
What Causes Damage on Car Paint?
Every day, your ride is bombarded with toxins – yes, we mentioned this above. But one of the biggest misconceptions about car paint is that the clear coat will block contaminants and UV rays by itself. Some believe that the quick application of natural carnauba wax will do the trick.
However, that's just not accurate. A clear coat is microscopic thin – as in – thinner than paper. Want to add a layer of car wax that only holds up for a few months? Your protection just got a half of the thickness of that piece of paper extra. UV rays, bug splatters, tree sap, pollen, and road debris can stick to the top layer of your vehicle and slowly eat away until it gets to raw paint. The clear coat of paint is what becomes embedded with swirl marks by using automatic car washes or poor-quality towels.
Eventually, these materials will penetrate the pigment – and start to corrode and oxidate on the metal. There are some people who are strong believers of using an outdoor or indoor car cover to protect from these contaminants – and there is some logic behind those thoughts. However, they are not the optimal solutions.
Some of the major contributors that accelerate paint corrosion may include:
UV Rays: The sun is awesome for providing warmth on a winter morning and making that deep paint job look rich, but it can also cause havoc to your vehicle's surface. There are two types of UV rays – UVA (which is responsible for causing damage to the surface of a substance – usually aging) and UVB – which is what causes burns and skin damage). Heat is produced by infrared rays or IR.
Natural Waste: Bird droppings and bug splatters are second on the list of items that can wreck a cars paint surface. Both items are highly acidic, with other ingredients that stick to different materials on your vehicle. If you don't remove them from the clear coat, even windows – they will begin to stain and etch into the top layers – especially on the car's paint.
Smog & Pollution: Smog is essentially unburned particulates that is derived from fossil fuels. It's carbon emissions that circulate amongst the air you breathe and eventually finds a home on your car's paint surface. If the vehicle isn't washed on a normal basis, smog and industrial pollution will bond to the surface, again causing damage.
What to Do If You Don't Have a Garage
Let's be blunt – we're not going to tell you to buy a carport, a blow-up device, or anything else to park your vehicle inside. Today's professional-grade ceramic coating and paint protection film will do a phenomenal job at protecting your vehicle for YEARS – against normal wear and tear and exposure to the outdoors.
Now, you're probably thinking to yourself, "well, I would buy a ceramic coating or PPF if it wasn't so expensive." And you know what – that's fair. A professional-applied and CARFAX documented Ceramic Pro 9H Gold Package that comes with a lifetime warranty is an investment in the protection of your vehicle.
However, that's the top of the mountain. There are several package levels that will fit virtually every budget – and keep your car, truck, SUV, or other vehicle from continual outdoor protection. There are also some other DIY protection products that will serve to protect the paint, plastic trim, and other exposed car parts that you may want to consider.
Natural Carnauba Wax
The first car wax was introduced to the global consumer market in 1944. It was called Plastone and was invented by a chemist named Ben Hirsch. It was a liquid car wax that was comprised mainly from natural carnauba wax – a secretion derived from a palm tree based in Brazil. The product was exceptional at creating a hard-shell on top of the vehicle's painted surface. Eventually – he renamed the product Turtle Wax®.
Today's natural car waxes are based on the same concept – using natural oils and resins that bonds on top of surface – and protects against UV rays and other outdoor elements for a few months. Every trip to the automatic car wash can accelerate breakdown.
Polymer or Synthetic Paint Sealants
The lab-created wax job is known as a paint sealant. It's synthetic in nature and may consist of some natural carnauba wax, silicon dioxide (SiO2) and Teflon materials. This is what you'd call a hybrid car wax. It can be applied via a paste, liquid, or sprayed on – then buffed off with a fresh microfiber cloth. There are some paint sealants that claim to hold up for 8 months to a year in pristine situations.
DIY Ceramic Coatings
There is a slew – and I mean a TON of DIY ceramic coatings for cars on the market today. Some of them are easy to apply – and others will give car owners a ton of issues. Let's clarify one of the biggest myths about these DIY coatings – they are NOTHING CLOSE to a professional-grade 9H nano coating. Many can be applied and removed with a simple microfiber towel – while others are more labor inclusive.
They are mainly designed for ease of application and replicating a lot of the 'attributes' of a professional-grade nano coating. For example, most of these coatings claim a lot of hydrophobic properties (which is what makes water bead on the surface). And for the most part – they do this quite well.
However, they are not the best at providing actual protection on your vehicle's paint. Some contain microscopic levels of ceramic ingredients (so they can call it "ceramic coating"). Others have large percentages of SiO2 – but aren't quite certain what that ingredient does. Some of these coatings will hold up for 18 months – but the level of protection they offer is not backed by warranties or any documented studies.
If you're going to buy a DIY ceramic coating, just make sure to research the product and the supporting materials you need – like extra microfiber cloth for example. Make sure you feel comfortable with the prep work, installation, and the aftercare recommended. It's really become a buyer beware market, so make sure to complete your research and consider all options before making the financial investment.
Professional Applied Coatings and Paint Protection Film
If you're looking for the optimal way to protection your vehicle, Ceramic Pro offers several affordable options. Our flagship Ceramic Pro 9H nano coatings are sold in package levels – each with its own expected and guaranteed warranty. Learn more about Ceramic Pro 9H coatings for the inside and outside of your vehicle by clicking this link.
We also offer a paint protection film called KAVACA® – which is Sanskrit for "Armor". Consider a PPF as a transparent car cover – as it can be applied to your paint, headlights, and other materials on your vehicle. Both products are installed by professional detailing shops or auto spas, with more than 3,500 certified installers in North America alone. You can learn more about KAVACA Paint Protection Film by clicking this link.
---
At Bill's we pride ourselves on being the best car detailing service in the Boston Area.
---
Ceramic Pro is the leader in nanoceramic surface protection. Bill's Detailing offers the best ceramic coating technology and paint protection film for multiple industries.
VIDEO
---
At Bill's Detailing Service, we offer the most trusted, certified installation of Ceramic Pro. Satisfaction from our customers and partners is what we strive for, and you will not be disappointed.
Check out our Ceramic Pro packages! >> Ceramic Pro 
---
We pride ourselves on being the best car detailing service in the Boston Area and the top Ceramic Pro installer.
If you've been thinking about having a ceramic window film installed on your vehicle, Ceramic Pro has a revolutionary solution for you.
KAVACA CERAMIC IR is the ultimate Window Film, manufactured with state of the art technology. Ceramic Pro has formulated a proprietary formulation of nanoceramic technology with an IR layer to deliver excellent Heat Rejection, Glare Control and UV protection that is metal-free; supporting signal clarity for all types of electronic devices.
KAVACA Ceramic IR lets you customize your car with any of the 6 shades offered, without sacrificing clarity nor the loss in heat rejection with clear VLTs. KAVACA Ceramic IRs advanced technology offers a non-reflective, color stable finish that will not fade over time.
Ceramic Pro has many years of experience in the industry of vehicle and surface protection. KAVACA Window Films have been designed and tested with extensive research to give you the top looks and performance. If you'd like to learn more about our new line of window tint for cars, or receive a free estimate from one of our certified installation centers, Contact Bill's Detailing.
VIDEO
---
At Bill's Detailing Service, we offer the most trusted, certified installation of Ceramic Pro. Satisfaction from our customers and partners is what we strive for, and you will not be disappointed.
Check out our Ceramic Pro packages! >> Ceramic Pro 
---
We pride ourselves on being the best car detailing service in the Boston Area and the top Ceramic Pro installer.
Heather Ballentine, Lamborghini sales specialist, finds out what Ceramic Pro is, why you would need it and essential to have it done by a certified installer like Bill's Detailing.
VIDEO
---
At Bill's Detailing Service, we offer the most trusted, certified installation of Ceramic Pro. Satisfaction from our customers and partners is what we strive for, and you will not be disappointed.
Check out our Ceramic Pro packages! >> Ceramic Pro 
---
We pride ourselves on being the best car detailing service in the Boston Area and the top Ceramic Pro installer.
Whether its Ford vs Chevy, In n Out vs Shake Shake, or Yankees vs Red Sox, we all have our favorites and tend to be rather vocal about expressing that preference. This mentality extends into the paint protection world – especially when debating clear bra vs ceramic coatings.
There is no denying the fact that a paint protection film or professional-grade ceramic coating are the two best ways of protecting your ride from exposure to harmful contaminants, UV rays, and even light scratches. But, there are qualities that each delivers that gives it a nudge or a competitive edge over the other.
That's what Adam Cote is going to explain in today's Ceramic Pro video. Adam will enter the highly contested world of paint protection by comparing clear bra vs ceramic coatings. He'll explain the differences between the two, introduce their pros and cons, and more importantly, provide factual information that will help you determine the two – so you can make an informed and logical decision.
---
At Bill's Detailing Service, we offer the most trusted, certified installation of Ceramic Pro. Satisfaction from our customers and partners is what we strive for, and you will not be disappointed.
Check out our Ceramic Pro packages! >> Ceramic Pro 
---
We pride ourselves on being the best car detailing service in the Boston Area and the top Ceramic Pro installer.
---
At Bill's Detailing Service, we offer the most trusted, certified installation of Ceramic Pro. Satisfaction from our customers and partners is what we strive for, and you will not be disappointed.
Check out our Ceramic Pro packages! >> Ceramic Pro 
---
We pride ourselves on being the best car detailing service in the Boston Area and the top Ceramic Pro installer.
How Is This Possible?
Ceramic Pro once cured, is measured to have hardness above 9H. Normal clear coat has hardness between 2H and 4H. The increase in the hardness of the coated surface is vast. This makes it the hardest paint coating on the market today. This new glass shield prevents minor scratches to your clearcoat and acts as a sacrificial layer. This preserves the original factory paint.
Any surface scratches that happen in the coating are easily removed with light polishing which will not weaken the integrity of the original clear coat. With Ceramic Pro your paint won't fade or age due to the UV protection in the glass coating. Think of Ceramic Pro as an additional clear coat layer, only a lot harder. All of this allows for more peace of mind and a fuller enjoyment of your vehicle, even in harsh environments.
Glossy, slick and self-cleaning This nano technology allows the Ceramic nanoparticles to fill the smallest pores in the paint which makes the Ceramic Pro glass shield shiny, smooth and extremely slick or hydrophobic. Ceramic Pro dramatically lowers the surface tension preventing environmental contaminants such as: bird droppings, bugs, dirt, tar and graffiti paint from bonding to the surface. Water easily removes dirt from the surface by encapsulating it while rolling off the surface. This is called the self-cleaning effect.
Permanent protection Ceramic Pro 9H is a one-time application if maintained correctly. Once the Ceramic Pro glass shield has cured it can only be removed through abrasion like wet sanding. This puts Ceramic Pro in a category by itself, compared to sealants or waxes that degrade quickly.
---
At Bill's we pride ourselves on being the best car detailing service in the Boston Area.
---
Some people thrive on overthinking decisions. It is important to analyze the pros and cons of making any major purchase, especially when it comes to protecting your daily driver. However, when it comes to weighing a professional-grade nano ceramic coat vs. a questionable DIY ceramic coating kit, it all breaks down to one simple question – which one do  you trust?
The intent of a ceramic coated car is to provide a long-lasting, protective shield, to block UV rays, light chemicals, road grime, animal waste, and other contaminants from damaging the substrate or surface that is coated.
Although many DIY ceramic coatings are capable of being applied to different materials, these all-in-one solutions simply don't hold up the same. Some will last for about a year – while others might push the protection to 24 months.
With that said, here are six reasons why a professional coating like Ceramic Pro 9H is far superior to the best DIY ceramic coatings.
#1 – More Layers with Professional Coatings
One of the reasons why Ceramic Pro 9H is only applied in a controlled environment and by trained experts is the complexity of installation. The margin of error for applying and removing the coating is minimal with a pro-coating. DIY coatings have a larger window, but there is a drawback – you can't apply multiple layers.
Well – technically you can apply several layers of a DIY ceramic coatings, and remove it with a microfiber towel, but it's not going to bond or accomplish anything except waste your money. Let me explain.
A professional-grade nano paint coating can stack on top of each layer due to the professionally engineered carrier solvents – kind of like wax does. The drawback is that the installation and removal process is tedious, requires special training and is easy to mess up. The DIY coating removes most of the carrier solvents to make it easier for the average car enthusiast to apply.
But without this important ingredient, nano ceramic coating products can't build depth. As such, you can apply multiple coats of DIY coatings – but it's a waste of your time, money, and resources. It would be better to apply a few coats of a paint sealant. Ceramic Pro 9H ceramic coating on the other hand can build depth, which is why the layered packages can hold up for more than 5 years, protects the car paint against swirl marks, bird droppings, produces a hydrophobic coating, and is a true paint protection solution.
#2 – More SiO2 Is Not Always Better
When you read most blogs on DIY ceramic coating websites, they'll actively promote the amazing SiO2 percentage in their formulations – claiming that the higher percentage of silicon dioxide leads to a stronger – more durable coating. That's not true. In fact, SiO2 is the ingredient that helps provide a flat and smooth surface – or creates a super hydrophobic effect.
Titanium Dioxide or TiO2 is the main ceramic ingredient which impacts the hardness – or longevity. However, applying multiple coats of a coating with less SiO2 progressively adds depth and a flatter surface – producing better protection and super hydrophobic properties.
There are other ceramic coatings that contain no SiO2 or TiO2 that replicate an amazing slippery surface. So, if you only want to dazzle your friends with the car's ability to repel water a few days after applying the coating – any coating will 'work' for that result. However, if you want true professional ceramic coating protection – don't be hung up on SiO2 percentages.
#3 – Prep Work is Tricky and Time Consuming
There are a lot of positive reviews on some of the higher-grade DIY nano coatings. But, have you ever read them in detail? Most average car owner speak highly about how shiny the paint job on the vehicle looks after applying the DIY coating. However, keep scrolling down the review, and you'll see a lot of complaints about the paint correction or prep work required.
Now let's be clear – a car ceramic coating, regardless of the formulation, does not COVER UP scratches, blemishes, or minor damage on the car's paintwork. Due to this fact, it's vital to repair any imperfections prior to application. This is done via the prep work.
Ceramic car coating prep work consists of a decontamination car wash, clay bar treatment, paint correction (if any imperfections are present) and a final IPA (isopropyl alcohol) surface prep spray panel wipe. Depending on the condition of your vehicle's paint surface, the prep work can take a manner of hours or days.
The same prep is recommended for paint protection film. Applying carnauba wax or ceramic wax also requires some level of prep.
When you opt for the DIY ceramic coating, you're typically stuck with all the prep work on the car's exterior that comes with it. However, you can choose to have a professional auto salon help with the prep if needed, but at that point, it makes sense to spend a few extra dollars for a genuine ceramic paint protection option.
#4 – A Unique Formulation for Different Materials
Ask any car detailer and they'll tell you that there is no such thing as an all-in-one product for your car. DIY coatings are advertised as an all-in-one solution for protecting clear coats, glass, wheels, and vinyl. When you apply most of them to glass, it's common to get streaking, or to grab more frequently – leading to inconsistent operation during rainstorms. If you apply to a clear coat on car's paint, the DIY coating tends to work better.
The point is – with nano ceramic coatings, you can't have an effective multiple surface protectant that is high quality. Different materials have larger or smaller porous surfaces, which means the coating protecting it needs to be uniquely formulated to penetrate those tiny imperfections, to bond and seal the surface, and harden correctly.
Ceramic Pro 9H has a ceramic coating for car's paint, one for windows, a formula for vinyl and PPF, one for leather, and another for textiles. We also have coatings for industrial, marine, and commercial applications. We custom formulate every coating we offer – as opposed to contacting a chemical company and filling our bottles with stock formulas.
#5 – Consistent Results and No Mistakes
When you buy a DIY coating, you are taking a calculated risk that you won't screw up the application. To be blunt, a large percentage of the paint correction services our professional detailers offer is fixing high and low spots from DIY ceramic coating installation jobs gone wrong. The customer will contact our pros and tell them they followed the directions, and for whatever reasons – the coating wouldn't buff off the surface.
It's not our job to blame anyone or assign a reason for these errors. But the truth is – they happen all the time. When you have a professional coating applied, by an experienced detailer in a controlled environment, mistakes like this simply don't happen. And if they do – you'll never receive your car back with those errors. It'll be fixed and perfected prior to you picking up your car.
#6 – Warranty vs No Warranty
Our car ceramic coating – Ceramic Pro 9H is sold in three affordable packages. The bronze package is our entry-level coating, that protects your vehicle for up to two years – guaranteed. The silver package provides five years of warrantied protection. The gold package equals a lifetime of ceramic coating protection. There isn't a single DIY coating with a WARRANTY.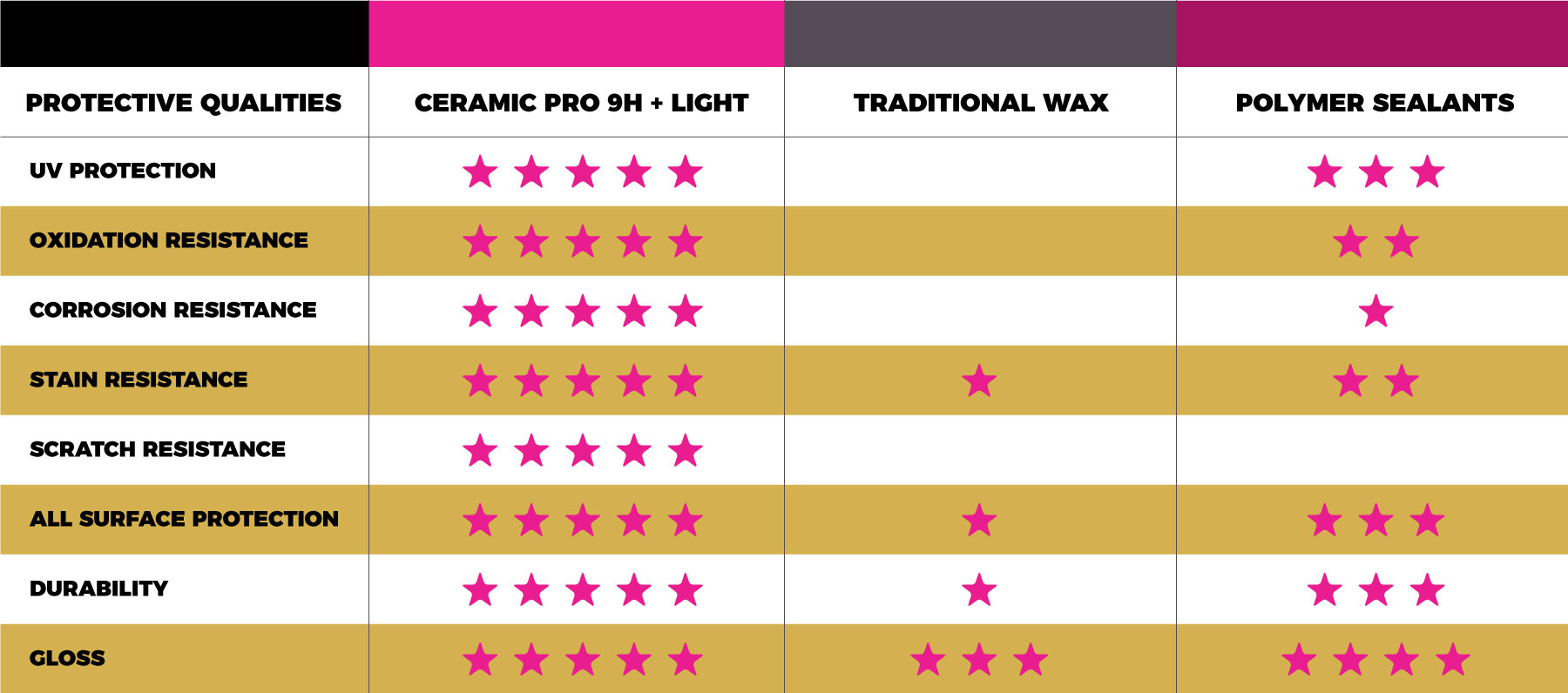 There are some that are backed by money back guarantees for 'expected longevity' – but no warranty to fix or reapply the coating for you. These DIY ceramic kits usually cost the manufacturer about $5.00 – and sold to you at prices eclipsing $50 in most cases. Many of most popular DIY coatings are repackaged and rebranded cheap knock-offs.
Plus – the variables involved with DIY coatings and their installation, make it impossible for any company to offer a warranty. It's really that simple.
What's the Verdict on Pro vs DIY Coatings?
Simply put – if you want a true ceramic coating, the professional grade path is the one best traveled. Auto salons that offer Ceramic Pro 9H can customize a package that fits your needs, desires, budget, and expectations. Plus, each one will be backed by a warranty – in writing, documented on your Carfax vehicle history report, and inspected once per year by our expert installers.
With DIY coatings – you're taking a calculated risk, applying a reengineered formula – that is simply not an effective protectant. Sure, it might make the paint shiny, might have water bead up and slip off the surface, but corn oil does the same thing.
If you'd like to explore your options with a professional-grade nano ceramic coating, click the button below to request a free estimate.
About Bills Detailing Service
Bills Detailing Service is the top Boston Ceramic Pro Installer. Established in 1993 by owner William Lima, Bill's Detailing Service provides you with years of expertise in automotive detailing.
Our team has gone on to create a unique level of superior customer service in the automotive detailing industries. Our technicians are professionally trained and experienced to provide you with the finest quality detailing service available.
We offer pick up and drop off service for the days that you need your car cleaned as soon as possible! We want you to be completely satisfied with our work, and cause a minimal interruption in your day.